Useful and clever solution for detection within your production line: the Smart-VS from Datalogic
We see more and more that companies rely on automated inspection solutions within their production processes.  The automation of inspection within a production line delivers benefits including in the areas of the speed with which checks can be performed, the costs that can be saved and the avoidance of waste because production continues for too long before the fault on the line is detected by a random sample check.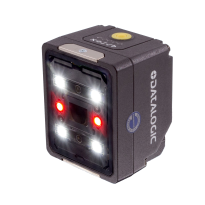 Datalogic's Smart-VS sensor offers you certainty thanks to automated provision of the detection within your product line. Thus for instance the sensor checks the presence or absence of items such as caps, labels or prints on your filling line. The sensor also performs the orientation check effortlessly regardless of the type of material, colour, dimensions or format.
Below we give you 9 reasons for integrating the Smart-VS into your production line.
Major benefit of Datalogic Smart-VS
The Smart-VS stands out in particular thanks to its ease of operation. Thanks to the innovative configuration software, no specialist training or expertise is required of the operators. Time-consuming and expensive configurations are also a thing of the past.

And that's not all!
The other 8 reasons for choosing the Smart-VS
Besides ease of use, the Smart-VS sensor has even more to offer. We have listed the benefits for you below:
It raises the productivity of your industrial application

Very simple and inexpensive to integrate into your production line

Remarkably low TCO in terms of complex visual sensor systems

Robust metal IP67 housing

Compact dimensions

May be operated remotely

Visibility via real-time statistics

Self-teaching.
We will tell you more about the last two points below.
Yes, I want to know more about the Smart-VS
Real-time statistics
The Smart-VS can be remotely configured and operated via a web server with a user-friendly graphical user interface (GUI). This interface offers real-time statistics on measurements taken on the production line and functions such as the storage of data and images. So you have visibility of what is happening on your production line at any desired moment.
Self-learning
The Smart-VS has the capability of self-learning from the detection circumstances so as to resolve application issues.
Even with a difficult background, a poorly lit environment or products with low contrast or complex materials.
Curious about the Smart-VS?
We can't tell you all the ins and outs of this sensor in this blog. We would of course be happy to look at your production environment with you and discuss what the Smart-VS might mean for you there. Ring us on +31 (0)10 415 64 00 or send an email to info@automator.nl.
PS Would you rather look at the Smart-VS technical specifications first? You will find them on the Datalogic Smart-VS datasheet.