Your maintenance, our concern - the benefits of a service contract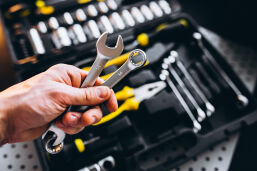 Regular maintenance is necessary to allow your printer and/or labeler to operate at maximum capability and to extend its working life. We will be happy to help you to ensure that your system is actually maintained at fixed intervals!

In this blog we tell you the benefits of a service contract.
Why a service contract?
Robert Palushaj, General Deputy Manager at Automator, explains: "Maintenance of a machine is essential to assure its best performance and to extend its working life. When a fault occurs, we constantly find out that it could have been avoided if the machine had been regularly maintained."
So why isn't it done?
"The main focus in many production companies is, logically, on production itself," says Robert from experience. "Then, because of pressure of day-to-day work, organising maintenance of the machines often gets relegated to the to-do list. And I think we all know these lists where things that we really intend to do are written down but there never seems to be time for them."
Automator has the solution in the form of a service contract. With a service contract, the customer is contacted when the time for regular maintenance arrives.
Other benefits
With a service contract, you the customer no longer need to think about regular maintenance. Automator contacts you when it's time for another visit. In addition, the service contract offers a few other benefits:
Fixed maintenance costs. Labour time and travel expenses are included in your service contract.

You are guaranteed technical support by specialist engineers.

Automator provides short response times in the event of faults. Service contract holders are given priority.

We strive for fault-free production thanks to preventative maintenance.
"And if you unexpectedly nevertheless report a fault to us, in consultation with you we will look at whether we can carry out the maintenance at the same time, depending on the opportunities the schedule offers. That will save you callout charges." Robert also mentions yet another benefit of the service contract.
What you can expect
Ask yourself: What tasks are carried out for you during such a service visit? They are summarised for you in a list below:
Testing the printer and/or labeller before the start of the maintenance

Checking the full functionality of the system

Inspection, cleaning and adjustment of the sensors

Thorough cleaning and adjustment of the machine(s)

Comprehensive testing after maintenance.
After the maintenance, you will receive a report in the form of a service note.
 Discount in the event of replacement
During maintenance, we may come across a part in your printer and/or labeller that needs replacing. If this is the case, we will report this to you immediately. Once approved by you, the part will be replaced. The replacement part will be invoiced separately.
You will receive a discount on the part if during the service visit we determined that it had to be replaced.
Do you also want to make your maintenance our concern?
Do you want us to contact you when it's time for the regular maintenance of your system? And would you also like to do that for a keen price? Then send an email to info@automator.nl or ring +31 (0)10 415 64 00 and enter into a service contract right away!
Do you still have a question or would you like more information? Then contact us. We will be happy to discuss the options with you.